Product Details
Construction Grade Natural Floors Antique Bamboo Outdoor Deck Flooring
THJ Bamboo are made of natural grown bamboo, which using for your home furniture, wall panel, swimming pool area or other exterior circumstances. Bamboo is eco-friendly representative, the fastest growing just 4-6 years, while it takes 25-30 years for the wood to mature and it's hard to recover after being cut down. The excellent features embodied in its environmental protection, the waste bamboo can dissolve in a short time and its doesn't bring any pollution in production, utilization and wasting. THJ Bamboo products is a wide application including decking, wall cladding, fencing, beam and other abnormity products.
THJ bamboo decking is can be used to different places according to the length, width and thicknesse, depending on the unique technology and surface treatment a excellent appearance can be created. The boards are available with different surfaces: flat, grooved, curved, brushed, no groove. Except for Bamboo decking, we offer wall cladding and fencing boards for your choice.
Product name

Bamboo decking

Product appearance

Big wave

,

small ripple

,

double wave

,

small groove, flat

Dimension

1860mmx139mmx18/20/25/30/38mm

Technics

Hot pressing

Application

Garden, Park, Swimming pool, Balcony, Patio, Terrace, Square, Commercial buildings and any outdoor environment
Technical Data
| | | |
| --- | --- | --- |
| Test item | Result | Standard |
| Fire resistance class | B-s1, d0 | EN 13501-1 :2018 |
| Hardness | 70.4Gpa | |
| UV exposure | Grade 4 | ISO 4892-3:2016 |
| Density | 1.15-1.18kgs/m3 | |
| Moisture rate | 8-12% | |
| Expansion rate or water absorption | 0.35% | |
| Formaldehyde release | 0.001mg/M3 | |
| Swelling in thickness after immersion in water | 0.20% | EN317:1993 |
| Determination of resistance | 8.61N/mm2 | EN1534-2010 |
| Flexural test | 12900Mpa | EN ISO 178:2010/Amd.1 :2013 Method A |
| Specific Gravity | 1.14 | ASTM D2395-07 Method A |
| Light Ageing Test-UV Exposure | Grey scale 3-4 | ISO 4892-3:2016 Cycle 1 & ISO 105-A02:1993/Cor.2 :2005 |
| Slip resistance | SRV "dry" =74 | CEN/TS 15676:2007 |
| Durability test | refer to file | CEN/TS 15083-1 :2005; durability Classification according to EN 350:2016 |
| Resistance to indentation | 150MPa | Test method: EN 1534: 2020 |
| Lifetime | 25 years | |
Installation manual
1.Decking with symmetrical grooved in two length sides can be fixed with clipDC 05-1. Distance between the decking is about 6-7mm after installation. 2.Decking with H&L grooved in two length sides can be fixed with clip DC 05-2.Distance between the deck is about 5mm after installation. 3. Decking with symmetrical or H&L grooved in two length sides can be fixed with clip DC 07. Distance between the deck is about 4mm after installation.
Consideration: 1.before installing, please keep the products in dry and shade place, avoid the sunshine and the rain. Defects in surface caused by improper storage, is insufficient to cause customer complaint. 2.Before installation, clean up the worksite, make sure the basic is flat and stable, the drainage is smooth and comforms with the requirement of the construction design. 3.The joists should be fixed on stable cement-blocks or cement-tiles.Ensure decking slope 1-2 degrees from level inorder to shed water. 4.The distance between the joist must be between 450-500mm. By a deck of 1860 length need min.5 joists. 5.Distance from floor to the bottom of the decking should be 80-150mm.
Maintenance manual:

1. Clean up the ground trash soil (such as water washing need to wait for the floor to dry after the next step), and prepare the floor wire brush, sanding machine, floor protection oil, floor shine oil and other tools.
2. Clean the ground, prepare wire brush, sander, polishing machine, protecting oil, etc.(if clean with water, please make sure the ground is dry before the next step)
3. The floor is sanded with a wire brush to clean the surface layer of softened and decomposed varnish.
4. Please sand the decking with wire brush and clear the paint film on the surface.
5. Rinse off the paint film and dirt that comes off the surface of the panel after sanding with water.
6. Please clean the surface of the decking with water.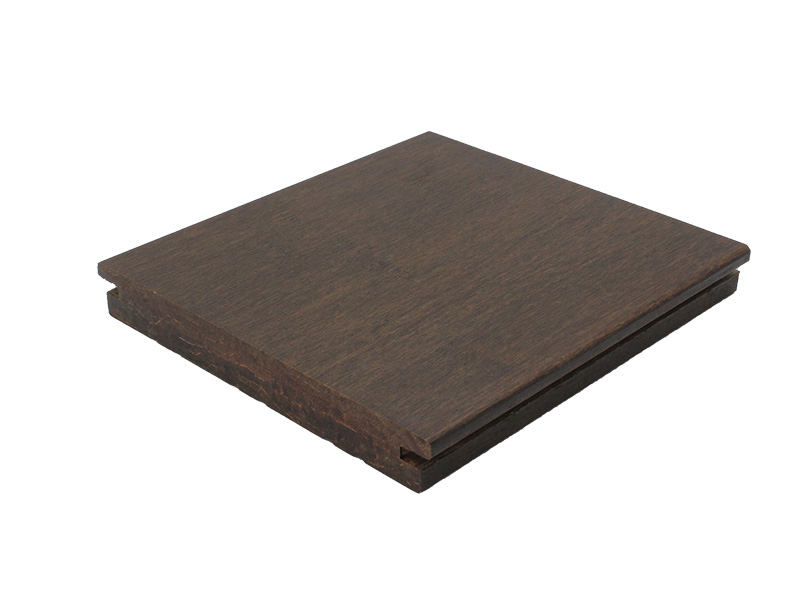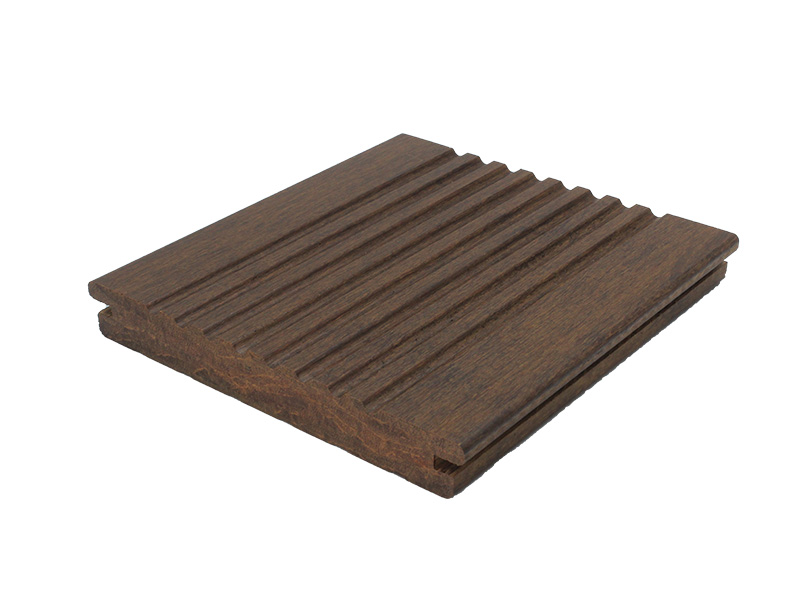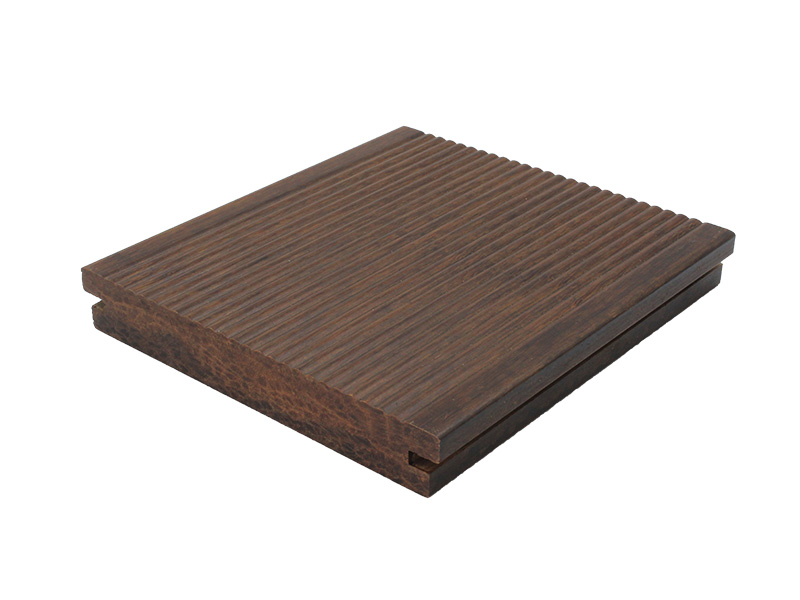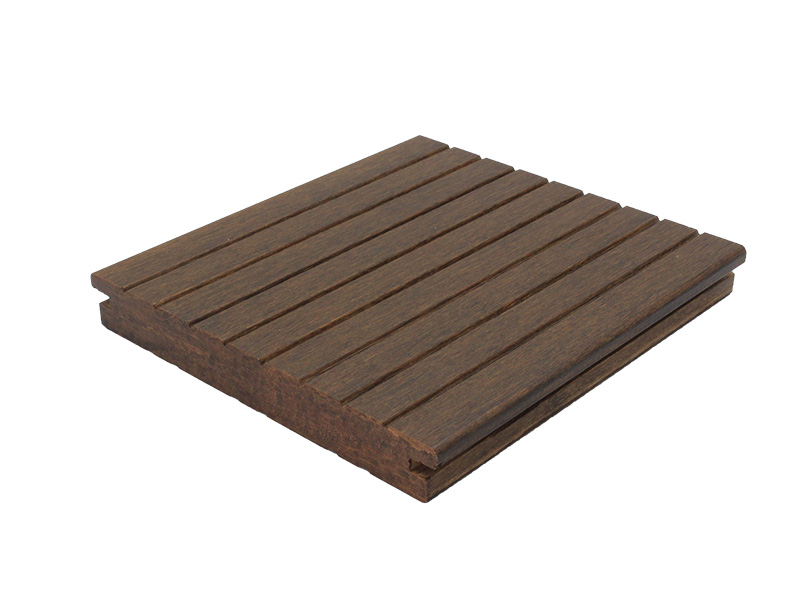 Prev :Garden Fence Outdoor Bamboo Decking Board T&G Bamboo Flooring
Next :Heat Pressed Exterior Bamboo Decking Board , Light Carbonized