Product Details
Brown Outdoor Strand Woven Bamboo Decking Boards for Plank Road
Strand woven bamboo decking boards are made from compressed, the fine bamboo fibers under intense pressure, while using a heat-sensitive and low-VOC
adhesive. THJ outdoor Bamboo materials has a series of excellent features, including high stabillity and high anticorrosive, high density high abrasion, high
hardness and anti-termite etc. Bamboo decking board is suitale for outdoor applications. With THJ outdoor bamboo decking for building, decoration,
landscape, articles of daily use and art-wares, etc. These materials can be customized individually to meet your own requirements.

Product details:
Materials: Strand woven bamboo
Common size: 1860mmx139mmx18/20/30/38mm
Joint: Tongue & groove
Surface treatment: bleached, sanded, with UV coating or outdoor oil
Color: light brown or red brown
Grain: flat / big wave / small wave / double wave / small groove
Density: 1250-1300kgs/m3
Hardness: 70.4Gpa
Moisture rate: 4.7%
Expansion rate or water absorption: 0.35%
Certificate: ISO/SGS/EPH/TUV
Application areas: garden, park, swimming pool, commercial buildings and any outdoor environment
Package: export carton with PVC on pallet
OEM and customization acceptable
Compared with other wood:
1. Natural anti-corrosion solid wood (Merbau,Teak, etc )-- Natural and beautiful, but not anti-termite, bad for forests resources,violating the ideas of
environmental protection.
2. Chemical anti-corrosion wood ( CCA )-- Containing heavy metals and toxic chemical composition ( Arsenic),polluting environment, prohibited in
United States, Japan and EU countries.
3. Chemical anti-corrosion woods ( ACQ ) --Non-toxic processing under chemical methods, bad mucor proof, limited application ( unfavorable to touch soil ).
4. Carbonized wood-- Good Eco-friendly performance, wide usage, but damage to forest resources and limited application ( unfavorable to touch soil ).
5. WPC --A kind of completely industrial products, not natural, easy to be deformed, fragile and broken, hard to be dissolved and not Eco-friendly.
Date comparison
Performance

THJ Outdoor bamboo

Nature anticorro-sive wood

Man-made anticorros-ive wood

Carbonized wood

WPC

Principal

Through physical process, hot pressing, carbonized

Nature corrosion

Preservative treatment with chemicals

Carbonized in high temperature

plastic processing technology
Surface
uniqure grains of bamboo(brown and dark color)
Keep the original wood grain
Green in color

Darker color

-brown

Dull
Abrasion-resist-ance corrosion
Excellent
Good
Good
Good
Good
Environmental preformance
Excellent
Excellent
Bad
Good
Good
Anti-termite

Excellent
Bad
Good
Good
Good
stability
Excellent
Good
Easy shape
Good
Good
Market price
Middle High
Highest
Low
Middle
Middle low
Tab.1
| | | | | | |
| --- | --- | --- | --- | --- | --- |
| No. | Species | Moisture rate(%) | Density(kg/m3) | Expansion rate of water absoration % | Hardness (Gpa) |
| 1 | THJ outdoor bamboo | 4.7 | 1.23 | 0.35 | 70.4 |
| 2 | Teak | 9 | 0.7 | 0.4 | 55.8 |
| 3 | Merbau | 14 | 0.8 | 0.41 | 61.7 |
| 4 | Red Cedar | 12 | 0.35 | 0.6 | 44.1 |
| 5 | Jarrah | 17 | 0.57 | 0.6 | 47.1 |
| 6 | Carbonized pinus sylvestris | 12 | 0.43 | 1 | 44.3 |
| 7 | pinus sylvestris | 12 | 0.46 | 1.3 | 43.1 |
Tab.2
How To Install Taohuajiang Bamboo Decking?
1. Direction of installation
Direction of installation should be kept the same as that of the room length, and the floors be installed one by one from left
or from right with their grooves facing the wall.A fap between floor and wall should be kept 10-15mm and need to put the wood edges.
2. Installation method of flooring
Fix the grooves and tongues of flooring, install the bamboo flooring directly on the base of ground. The end joints of flooring should
be staggered (Generally speaking, on the position of 1/2 or 1/3 staggered). It doesn't need to be nailed or put glues. At the same time,
we should check the straightness and flastness of flooring arrangement when installing. We should also pay attention to the color deviation,
select the similar color floors to be put together. In addition, we can use the color deviation to create shade design, increase the effect of apperance.
3. Keep the flooring in proper tightness when installation
In the areas where there are great differences of moisture in different season, you should keep fitting of boards in proper tightness according
to the weather condition. Floors with lower water rate should be installed loosely when under dry weather conditions; on the contrary, floors
with higher water rate should be installed tightly when under damp conditions. Otherwise, the floors will be curved or swelled or isolated with
the season changing.
4. The last step for installation
You have to cut some boards when finishing installation. In order to prevent from penetration of water or moisture, edge joints of floors must be painted
where it is cut.
After installation, a few of spring sheets should be placed between the grooves and wall in way of installation without wood strip.
In some where of the gate and other connecting places, you have to cut some floors so as to leave enough space for welling or shrinkage, then T-molding or
reduces
can be installed to connect then and cover the space.Meanwhile, there must be 3-5mm space left between the bottom of doors and floor to benefit you open
door freely.
Thickness of baseboards should be less than 14mm. It must cover the swelling gap totally.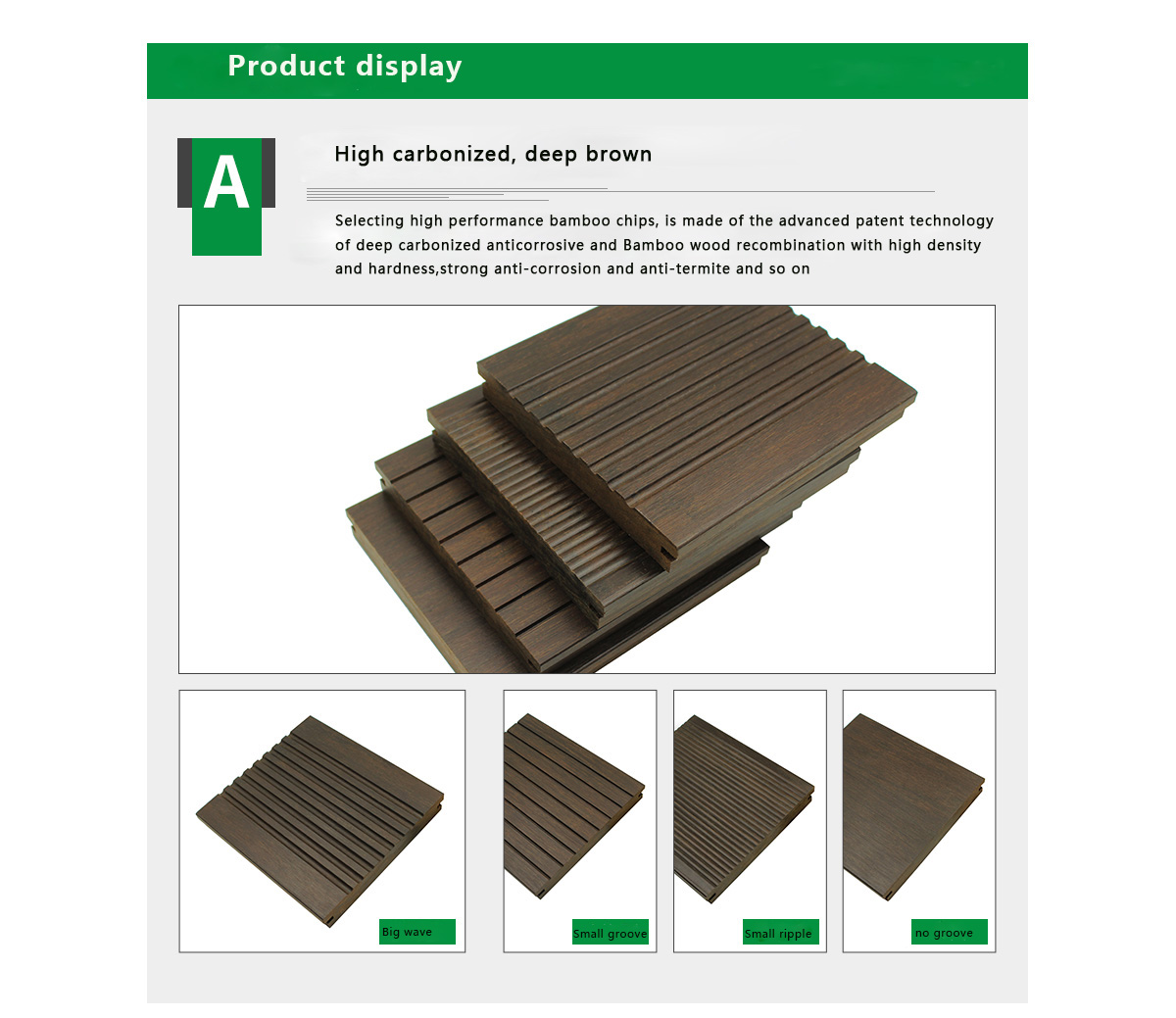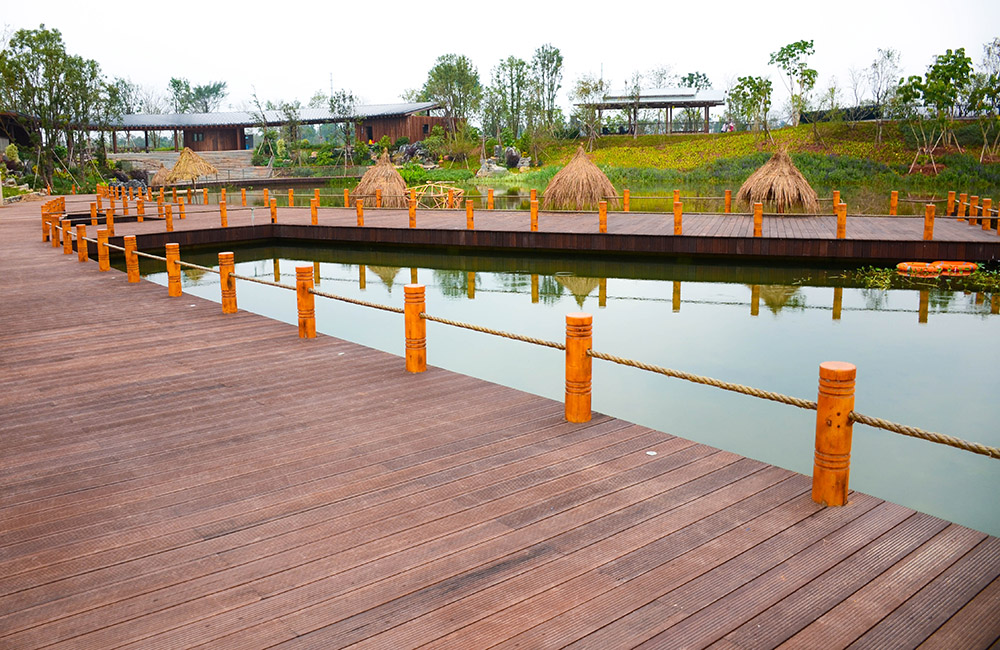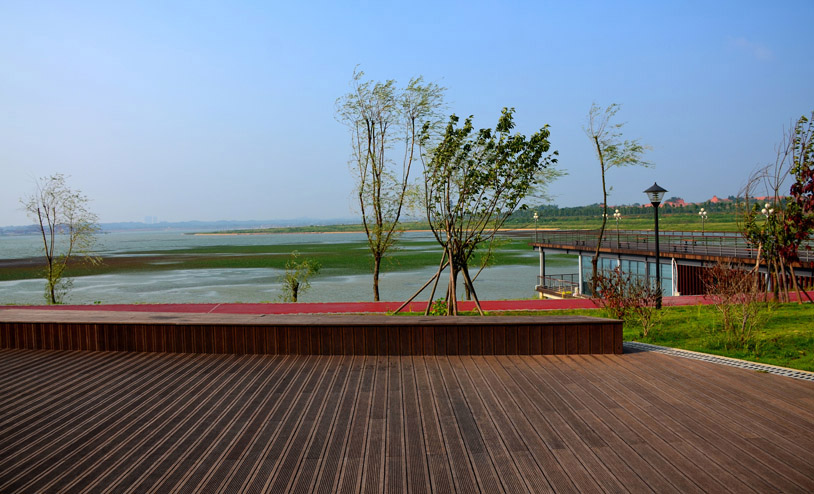 Prev :No Information
Next :Anti-corrosive High Carbonized Bamboo Decking Exterior Bamboo Flooring